now playing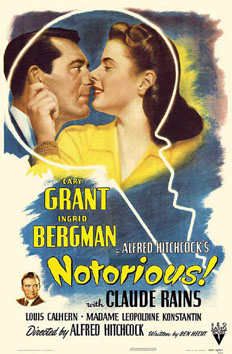 I enjoyed some of the more dated aspects of the movie, a phonograph record of a bugged conversation, seltzer bottles on the tables at a nite club & smoke filled conference rooms.
Here are some great lines.
Alicia to Devlin: "Huh, go away and leave me alone. I have my own live to live. Good Times, that's what I want and laughs with people I like and no underhanded cops . . ."
Alicia to Devlin: "Well handsome, I think you better tell momma what's going on or all this secrecy is gonna ruin my dinner."
Devlin's Superior: "I think those remarks about my wife were uncalled for."
Madame Sebastian to Alex Sebastian: "We are protected by the enormity of your stupidity."
Devlin on Alicia: "She looked like the ragged end of nowhere."