READ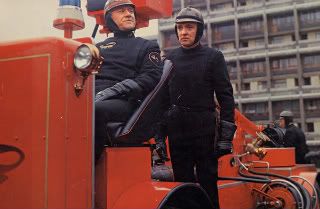 This week is
Banned Books Week
. Read a book to celebrate. Let me know what book you chose. I'm reading Issac Asimov's,
Foundation
. I suppose Ray Bradbury's,
Fahrenheit 451
, would have been an even more poignant choice, hence the photo above.

Banned Books Week: Celebrating the Freedom to Read is observed during the last week of September each year. Observed since 1982, this annual ALA event reminds Americans not to take this precious democratic freedom for granted. This year, 2008, marks BBW's 27th anniversary (September 27 through October 4).

BBW celebrates the freedom to choose or the freedom to express one's opinion even if that opinion might be considered unorthodox or unpopular and stresses the importance of ensuring the availability of those unorthodox or unpopular viewpoints to all who wish to read them. After all, intellectual freedom can exist only where these two essential conditions are met.

Read while you can.
My all time favorite
Twilight Zone
episode,
Time Enough at Last
.
Yes, that's Burgess Meredith as Henry Bemis.
The Twilight Zone: Time Enough at Last (Part 2)
The Twilight Zone: Time Enough at Last (Part 3)